It occurred to me that I could model something I really value: real-time reflections about the act of teaching. So here goes.
We usually start planning our summer DigPINS runs in December and January. Most of these conversations are about finding good dates and figuring out which institutions want to collaborate this time, and there's a little bit of reflection about what we might like to do this time. We had enough collaborators interested that we probably should have put more explicit planning into how DigPINS changes as it scales up.
In late February 2020, we started to think about how we could include some different digital literacies which people might find handy if this weird pandemic thing turned into any kind of problem. Obviously stuff changed a lot faster and a lot farther than we thought it would.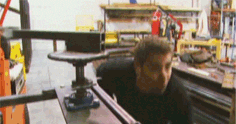 There were some rather obvious changes to DigPINS. For example, we used to do videoconferences in part to make sure people had thought about bringing in external speakers over video. It's fair to say I don't ever expect to introduce that concept to a faculty member again. Our use of Liberating Structures this time has been a kind of recognition that effective meeting techniques, especially over video, aren't always intuitive. (And thanks to Maha for bringing us those approaches!)
And then right as we were preparing to launch, the outrage sparked by the murder of George Floyd caused us to think again about how we might need to hold space for the processing people need to do in this moment.
This has all made me more aware, perhaps, of a repeating theme that people sign up for DigPINS without entirely understanding what it is we'll be doing together. That's not entirely a bad thing – I think enough people have overall positive experiences that I'm not worried about DigPINS being a bait-and-switch, and our heutagogical model relies on learners pursuing the experiences they want. But I still wonder whether there's a way for us to signal ahead of time just what kind of workshop this is.
And then I thought back to last year's Kenyon digital storytelling workshop.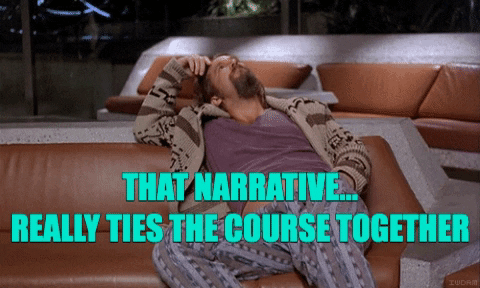 In that workshop we explored the ways that we can make a course more engaging and transparent by drawing on narrative or narrative-like techniques. As Alan wrote in his recap, while the trappings of fictional narrative like plot and character proved too big a lift for most folks, ideas like recurring theme or central conflict are already there in many courses, and the idea of lifting them up seemed to interest people.
Now, DigPINS' central argument is IMO pretty darn central – who we understand ourselves to be, and who we understand ourselves to be in community with, impacts how we teach and do our disciplinary work. And we tend to believe the benefits of expanding those definitions are worth the work and risk. Still… sometimes that feels more like an assertion than a debate or an arc.
I find myself wondering what might happen if DigPINS had a more intentional theming, an agreement to try and look at one facet of the PINS, if you will. I could imagine iterations which focused on issues of equity and inclusion, on public scholarship, on subsets of technology. We might advertise it as DigPINS And… or The DigPINS Of…
(This idea is inspired by the different genres explored over the years in DS106, with the understanding that DS106 is a very different course/community.)
How would our conversations be different around a more defined common point of interest? Would it give us a better way to navigate the way "the digital" touches pretty much everything? I want to believe the extra structure would give us resilience, even if it were only in the form of having the ability (the responsibility) to pause the main topic to address current events. Or would sticking to the plan become a bigger hazard than it already is? We'd definitely be shrinking our potential community of participants, and one of the things I value about DigPINS is the way different perspectives can inform one another… would the sacrifice be worth it?
It might be worth noting that this is my 3rd time facilitating a DigPINS cohort, and a lot of faculty have comments that this is often the point when they start messing with courses just to mess with them. So I do want to approach this with some humility.
I don't know what the right answers are; I don't know what my co-facilitators will think about the questions. I don't know where we'll be this time next year. But… I can write them down, share them, and try to remember to return to them in 6 months.
---
GIF of Tori Belleci from Mythbusters getting whacked in the head from giphy.com .
GIF of The Dude captioned by Alan Levine.
"Bokeh Focus" also by Alan Levine.