Week 3, which is one week I was REALLY looking forward to!  However, I'm now catching back up because…. beach.
There is SO MUCH information regarding economics that is dispersed digitally, it is REALLY silly to not find a way for students to ingest current information in this form.  However, sometimes I have this conversation with people
Random Person: Oh, you're a professor?  What do you teach?
Me: Economics
Random person –>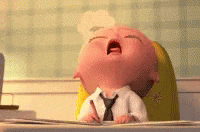 Alright class, let's talk about Macroeconomics! source: giphy.comSome people feel that economics is "boring," but a lot of aspects of our lives hinge on some form of economics (bank accounts, loans, jobs, mortgages, rental markets, etc). Students, I've found, want to be engaged with the material but can sometimes fall asleep when the topic feels really abstract to them. This is why I felt that week 3 was going to be so helpful for constructing innovative ways to reach my students.  And DigPINS did NOT disappoint!
Head on over to my website and check out my blog post here.
I'm interested to hear what everyone thinks about my exercise for the students!